Color Guide
Green = Normal
Red = Rules or Site Information. Iota Races
Blue = Lore, official plots, or history making RP topics. Megalo Races

In the characters area tedranog needs separate sub forums for each city/village as well as an others fourm.

Tedranog Rastlina and Earth all need unique planet images.

Topic icons for Locked, Announcement, Global Announcement, and Sticky need new better looking images.

Earth and Rastlina need locations to rp at. This is your chance to contribute to the lore foundation.

Probably the biggest of all and lowest on my priority list, all lore information needs to be checked for spelling and grammar errors. Mostly grammar errors. Not something I claim to be proficient at.
_________________
The Man Stealer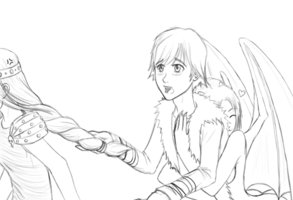 Astral's Character Compendium (Click It!)
Admin




Posts

: 450


Join date

: 2014-01-02



The Laws of Nature, Magic, and Science

Nature vs Magic
Magic has been researched a great deal on Tedranog, particularly in the changing of oneself into a race more fortunate than them, whether due to a desirable trait or simply because they are stronger. While it has been shown to be possible to change ones entire genetic makeup, something that can never be changed with magic is an individual's nature magical capacity and regeneration. So even after changing into a race that has a greater magical capacity and regeneration, the individual will retain their natural one. The same is true even if becoming a race that has a lesser capacity and regeneration. Further study has also revealed that if one changes into a different race then mates with an individual of that same race, the resulting offspring will be a hybrid, representing the changed parent's original race. This has led all the races of Tedranog to frown upon changing ones race, though mostly because of the potential for being fooled and ending up with a child they didn't expect. And those who researched it were confused. It didn't make sense for two individuals of the exact same race, right down to their DNA, to produce offspring of a different genetic makeup just because one of the parents was using magic to be the race they were. A theory was formed that nature was a superior and unobtainable form of magic whose rules could be bent but not broken by the other magics of the world.

Like any spell in the world, the change requires a constant supply of magical energy to sustain it. The stronger the race you wish to become, the more energy you will need to sustain the change. For example, if you wanted to be turned into a Dragon, you would have to have one do it for you, as only a Dragon would have enough magical energy to do so. Interestingly enough, for an individual to change themselves into an identical, but still different, species would require the same amount of energy as someone who wanted to become a species that is drastically different in every way.

[OOC: The magic listed here is the only magic which exists in Tedranog. Magic is the only area of the Tedranog lore that can't be added to.]

Science vs Magic
Science and Magic have an interesting relationship. Unlike magic, science has the power to overwrite the laws of nature. With the use of technology you can change the race of an individual and even their offspring will be of the same race, unlike when using magic (see Nature vs Magic). And with science, there is no need to use energy to keep the change going; once it's done, it's done.

It all kinda works like a game of Rock Paper Scissors: Nature trumps Magic, Magic trumps Science, and Science trumps Nature. Here is an interesting example of this: even though science can change nature and nature is what determines magic, an indiviual whose race is changed gains no natural magical ability increase (see Nature vs Magic). Due to this a new theory was formed: magic ability is not solely determined by race and that there are other factors yet to be discovered.

[OOC: As the foundation of Tedranog's technology has yet to be created, by contributing to this part of the lore, you understand that what you create may not be accepted due to contradictions of future lore which has yet to be written. You also understand that any technology you contribute that is determined to not contradict future lore will not be contradicted by future lore.]
Types of Magic

Common Magic
Common Magic is the magical energy one's body naturally produces. This type of magic is hard to learn and most races only generate enough magical energy for a few spells a day. This is one of the most readily available sources of magic in existence as it is constantly being replensihed in your body. It also has the least amount of drawbacks, though one of the most severe: if you use up all of your magical energy then you die. The only other drawback is there are many limitations on what spells you can use with this source of magic. Common Magic can't manipulate souls--bring back the dead. It can't increase the amount of magic one generates. For example, if you were to change someone into a Dragon (something only the best of the best can do) they would not receive the icredibly large pools of magic Dragons generate, nor would they have their magical skill. And there is no such thing as a permanent spell; all spells that use Common Magic constantly drain the user's magic and only theirs. One must learn how to use separate types of magic to in order to cast spells that draw on different sources. Once one reaches adult age, their magic capacity is capped off and will not grow any larger.

[OOC: By saying you are good with magic, you are saying you are good with Common Magic only. You must specify all fields of Magic you are skilled in if you wish to be able to use those types of magic.]

Portal Magic
Portal Magic is all about the opening and closing of portals. You can become like a ghost and phase through objects at quick speeds, which would require much magical knowledge and energy drain. However, instant or near-instant transporting is not possible without Portal Magic: it is how one teleports, so without it, you can't.

[OOC: While it exists on Tedranog, nobody knows how to use Portal Magic, even knowledgeable magicians don't know of its existence. There is only one being on Tedranog who knows how to use it, but that knowledge was given to him by Twilight, the true, unknown Goddess of Tedranog. She has tasked him with only one thing: protecting the secrets of Portal Magic and keeping anyone from learning how to use it.]
Totally going to make a character whose sole purpose is to travel around Tedranog trying to learn Portal Magic.

Mental Magic
Mental Magic is the most unique type and very rare. Unlike other forms of magic this cannot be taught, you're either born with it or aren't. Those born with Mental Magic almost always have incredible difficulty learning other types of magic (the three major races of Iota are the only exception to this). Mental magic also can't by replicated by the other forms of magic; you can move fire around and stuff but you can only manipulate magical constructs you've created. Those born with Mental Magic are born with only one specialization (again three major races of Iota are exempt from this).

Types of Mental Magic:
Telekinesis: An invisible force that can manipulate things around you.
Telepathy: The ability to speak into the minds of others.
Foresight: The ability to see into the future.

Divine Magic
Divine Magic is actually just magic given to people by greater beings. The greater being shares some of their magical energy in exchange for the person's loyalty or favors. While people belive they get this type of magic from gods, in realty, it comes from Iota natives who are using them for their own agenda. The favors asked for by the natives are always in defense of their home. Sometimes this means killing people, rcovering stolen magical artifacts, and other things. Most often though the native will ask the person to just spread the word about them and get more to join in in sharing the "divine" being's power, extending the native's influence on the world.

The host, or so-called "divine being", is capable of sharing any amount of magic they possess. The natives of Iota (Dragons, Fairies, Phoenix, Dafurais) are the only ones who can become hosts due to their large energy pool which is incomparable to any native of Megalo. Most often though the parasites, or followers, are only given Common Magic, as it is more than enough to please them. One of the advantages of Divine Magic is you don't need to learn how to use it; it is magic magic. And it's very helpful for difficult schools of magic and even the ones that aren't very well know... if you can get your host to share such power with you. Another advantage is the potential power you can gain. If you happen to be a follower of one of the three major Iota races (Dragons, Phoenix, Dafurais) then such potential is huge. However, the parasites are very rarely given much, just enough to make them pledge their loaylty. Most don't even know, and in some cases can't even comprehend, the power their host holds, making negotiations difficult. The only disadvantage would be your host practically owns you--the more you feed into it the harder it is to break away.

Blood Magic
Blood Magic is a form which draws its power from your stamina and life force. Basically, you are trading a fraction of your strength and life in exchange for magic. There aren't many who prractice this form of magic, for there aren't many who are willing to sacrifice parts of themselves for it. This is the strongest form of magic--and perhaps the most harmful to its user; what is taken cannot be brought back.

Soul Magic
Soul Magic draws its power from souls. Practice of this form of magic is strictly forbidden by all races, even the natives of Iota. Anyone caught practicing Soul Magic is often hunted down and killed. This is the only type of magic that can bring people back from the dead, by trading one soul you have taken in exchange for the one you want. Soul Magic is a dangerous art, but only the second most dangerous form of magic. Harvesting too many souls can cause those souls to possess you. As such, soul magic users only hold on to a few souls at a time.

Earth Magic
Earth Magic draws its energy from the stuff around the user. Because Megalo is so deprived of magic not many people bother learning it. Very skilled Earth Magic users can even draw magical energy from other people, but it can be ery dangerous if you use it too often. Every time you use Earth Magic, some of that magic is tansferred to you; it acts like a disease, fighting against your own magic. If one isn't careful, the magic will win and they will die. Earth Magic is the only type which can create enchanted items and be used to curse people. Like all curses, they die out once the energy it has been given is drained. Those which feed off the victim's magic are easily spotted and removed. The only permanent curses or enchanted artifacts are the ones which are combined with Soul Magic or items with a lifetime supply of magic, like Phoenix feathers.
Last edited by Raiju Kasai on Mon Nov 21, 2016 5:47 pm; edited 4 times in total
Rastlina
Possible planet image
Don't ask me why, but when I was reading about Rastlina, I imagined it looks like this from space.
The Races of Tedranog: Iota

Fairies
Fairies are tiny humanoids that resemble miniature Elves with wings. They come in many different sizs and colors. Like the Mermaids, they are very beautiful and rare, making them highly prized; an extreme few have ever seen the true beauty of a Fairy. When they're out and about they use their magic to envelope themselves in a sphere of light. The color of the light is unique to each Fairy; when all the colors are taken in a community they split up, with half of the community venturing out to make themselves a new home. The sphere of light helps protect them from predators, hiding their bodies from view, making them more difficult to target. The only body part you ever get to see is the wings. On top of that, the Fairies have come up with a unique spell known only to them and useable only by those who have high amounts of magical energy.  : They use their magic to create a giant sphere of magic around them, spreading in every direction. The magic in the area is thick and it allows them to sense the exact location and shape of any creature that enters it.They call this spell a Fairy Barrier.

Fairies are a mythical race to most; they don't like to show their faces to other humanoids. Fairies live both on Megalo and Iota, sticking to forests and jungles where they can hide. However, they originated from Iota, making them the only humanoid to officially be Iota natives, though none outside their own kind know this history.

As to be expected of such tiny creatures, Fairies are very physically weak... but don" let that fool you. They have the largest supply of magic of any race, with the only exception being the three major races of Iota (Phoenix, Dragon, Dafurais). Like-wise, they are especially gifted in using this magic. For this reason, Megalo is a very dangerous place for them; they are very valueable and if captured can be sold for a fortune greater than a Phoenix feather or Dragon scale, as they contain even more magic than these objects. In fact, they contain so much magic for such a tiny creature that the condensed magic takes on a physical image and dwells both in and around the Fairy; this physical magic appears like sparkling stars or glitter. It is referred to as Fairy Dust and takes on the same color as the sphere the particular Fairy uses.

Fairies fly in a different manner than other flying creatures. Their wings don't catch the air to lift the body; they are evolved to instead react  to the thick magic surrounding the Fairy to lift the body. The speed at which the Fairy can move depends on how much magical energy they have as well as how much effort it takes to stay in the air. As a result, their wings don't have to flap hard or fast, making them incredibly efficient. Appearance-wise it gives them more grace in flight than any other creature. A Fairy's wing shape also greatly affects the speed at which they fly; thin wings with little surface area allow for crazy fast flight speeds, but requires a ton of energy to do so; even just hovering is taxing. Bigger wings have a greater surface area, thus slowing them down a lot, but allows them to stay in the air with littel effort. Bigger wings are also considered more beautiful.


Last edited by Baldi on Tue Oct 31, 2017 9:22 pm; edited 5 times in total
The Races of Tedranog Continued: Megalo

Lamia
The Lamia are a race of people with the upper torso of a human and the lower torso of a snake; the snake portion makes up the majority of their body. Lamia can, as their appearance suggests, have a very close relationship with snakes, as their anatomy is very similar. The lower half of the Lamia can come in all sorts of different colors and patterns.

---
Permissions in this forum:
You
cannot
reply to topics in this forum