Color Guide
Green = Normal
Red = Rules or Site Information. Iota Races
Blue = Lore, official plots, or history making RP topics. Megalo Races

Name: Lindsay Solsken
Race: Human
Gender: Female
Age: 17
Height: 5' 4"
Weight: 110
Appearance: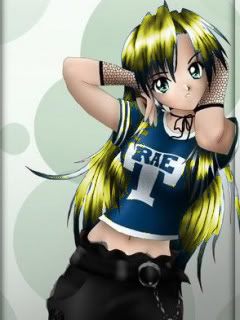 Personality:
Lindsay is best described as a spoiled brat. Everything always has to go her way and in most cases it does. Because of Lindsay's spoiled attitude and the fact that she gets most everything she wants means what most people see as fun she sees as boring. She is a thrill seeker always looking for what next thing will give her an adrenaline rush.
History:
When Lindsay was born her father was already top of Vegetovanie. Lindsay's mother died shortly after Lindsay was born killed by the carnivorous plants of the wild. This left Braden Lindsay's father with only one daughter. To cope with the loss of his wife he spoiled his little angel.
Strengths:
Lindsay has a talent at duel wielding. She can track several different things at the same time making controlling a battle very easy. This also means her accuracy is incredible and increases substantially with the less things she has to track.
Lindsay is also very acrobatic. And her small flexible frame allows her to pull of some amazing stunts.
Weaknesses:
Her incredible ability to duel wield is really just a crutch. In a one on one fight with either person having only one sword Lindsay won't fair so well.
In general Lindsay is actually rather weak.
Equipment:
2 short swords which are really 2 halves of one sword. She normally leaves this sword at home though as she finds it too heavy and cumbersome to take around everywhere. When she does carry it on her it's strapped onto her back.
2 pistols and 6 magazines each magazine carrying 12 rounds. The pistols are always kept on Lindsay holstered on her hips while the 4 extra magazines are held in pockets on her thigh's.
_________________
The Man Stealer
Astral's Character Compendium (Click It!)
Admin




Posts

: 453


Join date

: 2014-01-02




---
Permissions in this forum:
You
cannot
reply to topics in this forum